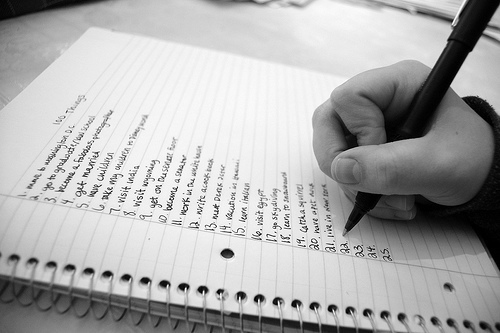 Because I possess infinite wisdom and boundless maturity, I actually wrote those words (Dude!  That's quite a list!) in my Bible a few weeks ago.  Our pastor was teaching about pursuing God.  I wrote in a previous post that I was going to stop sitting around praying for transformation and start actually pursuing it.  You know… like working on it.  So I did.
Step one for me was reading the Bible.  Yeah, I know.  I write a frickin' blog about faith stuff and I don't even really read the Bible that often.  But in fairness, this blog is way more often about what a screw-up I am than how awesome I am at being a Christian.  If you're looking for awesome, don't worry.  There are tons of self-proclaimed experts out there who write blogs about how awesome they are at being Christian.  This isn't one of them.
Anyhoo… I digress.  So my pastor was going to be out of town coming up and I was supposed to fill in and teach.  That's coming up in June 3, so obviously I'll see all of you there (don't let that pesky ocean between us stop you Paul).  I actually prayed about where to stop (gasp!  me seeking guidance for anything is a minor miracle) and got a pretty clear word: James.  Ironically, I then dove into my standard practice of over-thinking everything and wondered if God was saying MY name or leading me to read the book of James.  Then I decided I was being a moron and wasting time and just picked up the Bible and started reading the book of James.
My commitment was to read every day.  I wanted to give my sermon on June 3 about things I learned when I spent three solid weeks pursuing God every day in practical ways.  Mainly, reading the Bible every day and praying every day.  I'd never done it consistently before and I figured there would be some lessons in it that I could share.
Well as the kids say… NAILED IT.  Yeah I got some lessons.  And I found a big list of reasons to pursue like never before.  I figured I'd shares that list here.  You know.. because I'm a giving sort of dude.
Being honest, I kind of approached this with a, "What's in it for me" perspective.  God wired us up to expect something in return if we do something.  So I would assume that pursuing God would produce a result I would like.  This is kind of the seeds of the "prosperity gospel" where people tell you that if you pray for a new house you'll get a new house, or whatever.  That's a little simplistic for God, so what would God tell me that I would get if I pursued him?
Here's the list, and it comes from the notes to James 5:16 in the NIV Fire Bible (page 2433 if you have it):
For those who are in a right relationship with God, and who continually rely on him to do what is right, their prayers will:
bring them near to God (Hebrews 7:25)
open the way to a spirit-filled life (Luke 11:13)
bring them power for ministry (Acts 1:8)
bring them power for Christian devotion (Ephesians 1:19)
build them up spiritually (Jude 1:20)
give them insight into Christ's provision for them (Ephesians 1:16-19)
help them overcome Satan (Daniel 10:12-13)
clarify God's purposes for them (Psalm 32:6-8)
enable them to receive spiritual gifts (1 Corinthians 14:1)
bring them into a closer companionship with God (Matthew 6:9)
bring them grace, mercy and peace (Phillipians 4:6-7)
bring others who are spiritually lost into a relationship with Christ (v 20)
bring them wisdom, revelation, and knowledge of Christ (Ephesians 1:16-17)
bring them healing (v 15)
bring them rescue from trouble (Psalm 34:4-7)
honor God with praise and thanksgiving (Psalm 100:4)
make Christ's presence more real to them (Revelation 3:20)
ensure them of their final salvation and of Christ's intercession (7:25)
So now you can see why I would write the mature sophisticated phrase, "Dude!  That's quite a list!"
So go grab your Bible and pursue God hard.  It turns out, the return on your effort is extraordinary.  And then go be awesome.  You were made to be.
Later all.